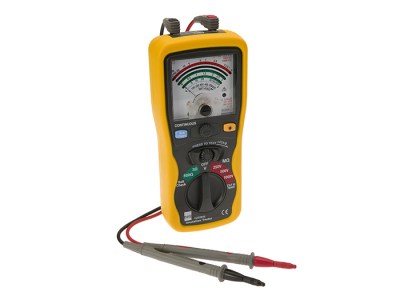 $

279.00 inc. GST
Easy to read illuminated analogue displayLive circuit warning
Hand held or free standing operation
Comes in protective carry case
Includes probe leads and a lead with alligator clamp
Meets EN61326 and EN61010-1 requirements
In IEC 61010: CAT III 1000V
$

369.00 inc. GST
The ET600 is a multi-function Megohmmeter capable of producing 125V, 250V, 500V, and 1000V test voltages for insulation resistance measurements up to 4000MΩ. Also tests AC/DC voltages up to 1000V with automatic ranging True RMS technology.
$

14.95 inc. GST
A fast blow 500mA, 600V replacement fuse for use in the Kyoritsu 600V Insulation tester 32mm x 6.3mm.
Suits Kyoritsu 3132A, 1009 Digital Multimeter and Kyoritsu 6201 (not the 6201A).
$

543.00 inc. GST
• Custom microprocessor controlled for highest accuracy and reliability. • 3 LEDs for checking correct wiring status. • 0 and 180 degree phase angle switch permits quick tests and consistent readings. • Digital read-out of tripping time. • Constant current source circuitry ensures that a fluctuating mains voltage does not affect the accuracy of readings. • Large custom digital display readout. • Visual indication of reversed phase and neutral wiring at socket. • Designed to IP54 Rating. • Complies with IEC 61557 • Test of a large kind of RCD's: Standard, Selective, AC and A (DC sensitive breakers)
inc. GST
Key Features
600v Cat III
Insulation tests from 0.001 MΩ – 100 GΩ
Rugged rubberised enclosure
Clear display
Solid construction
Multiple levels of testing
inc. GST
Key Features
1000v Cat III, 600v Cat IV
Insulation resistance measurement
Rugged rubberised enclosure
Large clear display
Solid construction
Multiple levels of testing